Rebecca Klein, Education Editor
While more students are graduating from high school and college, the number of young students enrolled in preschool in recent years has stagnated.
A new index released Monday from the nonprofit groups Opportunity Nation and Measure of America looks at the level of opportunity afforded to citizens around the country in the areas of education, jobs and local economy, community health and civic life.
The index ranks the best areas for educational opportunity, based on on-time high school graduation rates, the percentage of adults with an associate's degree or higher — and on preschool enrollment rates. And while the report found that levels of opportunity in America have improved overall since 2011, that accomplishment has not been the case for getting kids enrolled in preschool.
The top states for education are Vermont, Connecticut, New Jersey and Massachusetts, according to the index. The bottom states are Louisiana, West Virginia, Mississippi, and in last place, Nevada.
The map below shows where states scored best (the darker shading indicates higher levels of educational opportunity).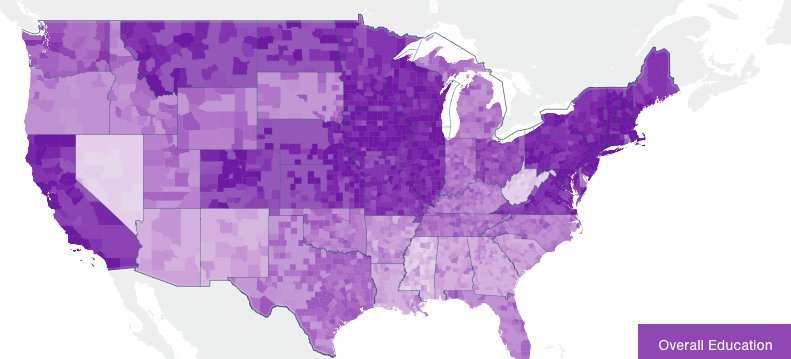 Russell Krumnow, managing director of Opportunity Nation, told The Huffington Post that the index seems to present mostly good news when it comes to education.
"This is our fourth year doing the opportunity index, so we're able to see over a few years' data as the country economically comes out of the Great Recession," said Krumnow.
He noted that the number of Americans with an associate's degree or higher has increased, and the on-time high school graduation rate has improved. Preschool enrollment numbers, however, have decreased slightly.
"There's a more a stagnant number with regards to preschool … over decades we've seen great improvement, but in the last few years that number sort of stalled out," said Krumnow.
He said this number could improve in future years, though. "We're now seeing more attention on this early education piece. It's now getting its time in the sun," he said.
The map below shows the regions with the highest rate of enrollment for 3- and 4-year-olds in school. Notably, Washington, D.C. –- which the index evaluates alongside the states — tops the list with the highest preschool enrollment rate, in part due to having passed legislation in 2008 to expand public preschool programs. In 2007, around 27 percent of the city's children were enrolled in public preschool programs; that number is now above 75 percent.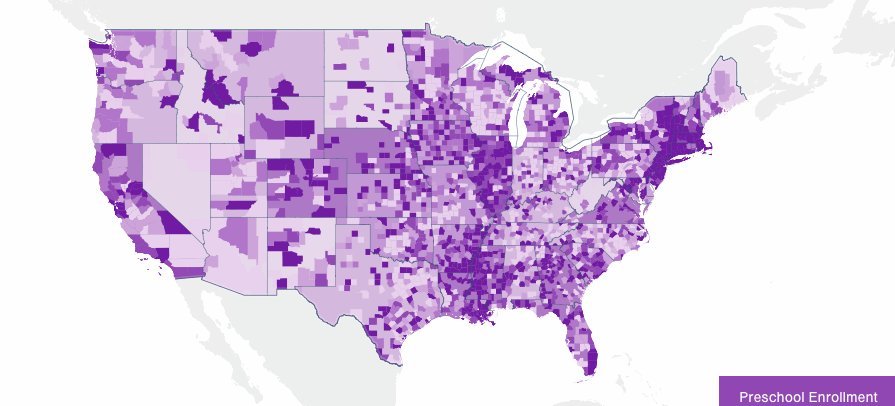 Recent polls have shown high bipartisan support for the expansion of public preschool programs around the country. In a July poll commissioned by the early education advocacy group the First Five Years Fund, 84 percent of Democrats and 60 percent of Republicans reported that they would support a national preschool expansion plan.